Café Hopping
Coolest spots to grab a cuppa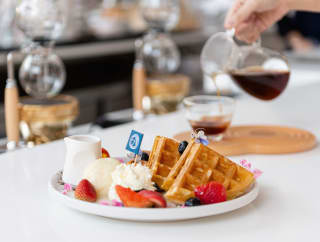 Hario
Spacious and abundant with splashes of natural light, this white-washed Japanese coffee and tea shop offers plenty of corners to hang out across their two floors. There's both a Slow Bar and Speed Bar, depending on your mood. If you have time on your hands, don't miss their Syphon Slow Drip—or go for the Matcha Ceremonial Grade if you're more of a tea person.
Photo Credit: https://www.bkkmenu.com/eat/we...
Kay's
Going beyond its outset of being an all-day breakfast place, Kay's is now a go-to hot spot for all meals of the day, as well as cocktails. Set in a cozy but elegant home, this eatery is decked with lots of leafy plants that make for an easy and breezy relaxation. Get serious with solid meals like Fish & Chips Benedict or Roast Rosemary Chicken, among many other international delights.
Photo Credit: https://www.kongaroi.com/p/kay...
Glig Café
The gorgeously landscaped garden— filled with a mirror shed, curved arches and flower beds— is the main draw at Glig. Drinks using medium roasted coffee beans and a handful of pastries are served here. If you're looking for an urban oasis to reset your senses, their wooden glasshouse is a charming place that lets you gaze outside while being indoors.
Photo Credit: https://today.line.me/th/v2/ar...
Peace Oriental Teahouse
If you seek premium, traditional, oriental tea, this is the place to be. Featuring rare and award-winning teas from local farmers in Japan, Thailand, China and Taiwan, you can be sure to find all kinds of tea here, be it green, white, oolong, red, dark or herbal. Besides some of the richest matcha you will ever come across, there are also tea ware and fun Japanese-inspired snacks such as Yuzu Mocheezu for grabs.
Photo Credit: https://www.peaceteahouse.com/...
Roots Coffee
A café and micro roastery, this coffee arm is also managed by the team behind Roast and The Commons. Dedicated to developing and showcasing specialty Thai coffee, the brand works closely with several farming families in northern Thailand, with hopes of one day putting Thai coffee on the world map. Look out for quirky, local menus such as Santol Twist Cold Brew—a seasonal drink that brings cold brew with coconut juice and santol syrup. Their blends are also the coffee of choice served at 137 Pillars Suites & Residences Bangkok.

Photo Credit: http://www.stu-d-o.com/project...
Okonomi
There are lots of Instagrammable aesthetics at Okonomi—namely the building and furniture that is completely washed in a popping pastel green. The atmosphere is trendy and warm at this Japanese eatery & café, which serves traditional Japanese dishes and Japanese-inspired brunch. The purple drink Sweet Potato Amazake makes for an eye-catching snap for your 'Gram.
Photo Credit: https://www.bkkmenu.com/eat/we...
Ryoku.cafe
Sweet tooths will love the fluffy, souffle pancakes served at Ryoku Café. With 20 different sauces to choose from, revel in the variety that takes inspiration from the scent of flowers and the freshness of fruits. Within this flowery, white glasshouse, you'll also find lots of healthy fusion dishes and beautiful cold drinks.
Photo Credit: https://cafestorythailand.com/...
Café Craft by CHANINTR
CHANINTR is a name associated with upscale and classy furniture and interiors. Their foray into food can only mean each dish is carefully crafted—their comfort food is simple but done well. Western and Thai dishes get elevated to a high quality, be it the Chicken Pesto Panini or Pla Salid Fried Rice.
Photo Credit: https://www.facebook.com/cafec...
% Arabica
Serious coffee heads must all make the trek to % Arabica. This hip, minimalist coffee chain from Kyoto offers a dizzying array of high-quality coffee that's both espresso-based and filter brewed. Unique drinks such as the Spanish latte incorporates rich condensed milk. Their state-of-the-art roasting machines also means the store is always filled with the tantalizing aroma of coffee beans.
Photo Credit: https://www.facebook.com/arabi...
MTCH
Sukhumvit 23
Emerging from the roots of the famous Matcha Café in Ari and Ratchaphruek, MTCH Sukhumvit offers a cozy haven for matcha enthusiasts. Whether you're a café hopper or simply craving matcha goodness, this place has you covered. Enjoy a variety of green tea treats, including new Signature creations such as Milkshake, Float, and Panna Cotta. The cafe is particularly popular among café hopping enthusiasts due to its well-designed interior, featuring corners perfect for posing and taking plenty of photos. Convenient parking and easy access to public transport make visiting a breeze.
Photo credit: https://www.facebook.com/mtch.bkk