Siam Walking Street
The Center of Everything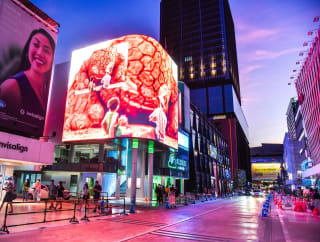 Every country has a square like this which serves as a local teenage hangout spot. In Seoul, it's Myeong-dong, but in Bangkok, it can be the one and only Siam Walking Street. Situated right next to the country's leading public high schools and university, Chulalongkorn University, Siam is affectionately considered to be the second home to the teens of Bangkok.
The area has gone through major makeovers in the past few years and now the original shophouses have been renovated into shiny flagship stores selling the latest fashion, makeup, homegrown brands and hip snacks. If you're looking for a fill of the latest trends, cool eateries and whatever fads of the moment, Siam Walking Street is a snazzy place to shop and people watch.
Photo Credit: https://www.prachachat.net/mar...