Samlor Tour
Our half day tour of the Old City by traditional samlor or rickshaw allows you to turn back time and experience the slow travel methods of days gone by.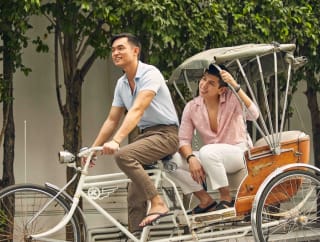 The tour begins at 8.30 am when your guide and driver will meet you at the hotel from where you will visit the quaint Wat Ket Museum which exhibits memorabilia of old Chiang Mai, followed by the Kad Luang Market which dates back to the early 20th century and which Macfie and Bain would most certainly have frequented.
The only public transportation available in those days was the samlor (also known as a rickshaw or bicycle taxi). Our samlor tour will take you to some key historical sights of the city, including the oldest house in Chiang Mai, known as the Lanna Ancient House, formerly owned by a Burmese teak trader. After crossing the Ping River via the Iron Bridge, the samlor tour concludes at the First Church of Chiang Mai.
The tour continues by minivan to the Gymkhana Club. In 1898 Louis Leonowens of the Borneo Company, was one of 14 founders of this sports club, which became the social meeting place of the expat community in Chiang Mai where they gathered to play golf, tennis, cricket and polo and to socialize with friends. Both Macfie and Bain were members and appear in group pictures that adorn the wall of the club. In the 1920's and 1930's the expat community probably totaled around 70 people, including children. Most were American missionaries or British employees of the teak firms. The club still operates to this day.
Next to the Gymkhana Club is the foreign cemetery where both Macfie and Bain were laid to rest. You can visit their graves and that of Chiang Mai's most famous British consul W.A.R.Wood.
The tour concludes at the Lanna Traditional House Museum at the Chiang Mai University; a charming open-air museum with an amazing collection of re-assembled wooden traditional houses. At the center of the compound is the Queripel House or the House of "Lung Que" which was the home of Arthur Queripel, forest manager of the Bombay Burmah Trading Corporation. It houses a permanent exhibition on the life and times of Arthur Queripel and the teak industry. You will then return to 137 Pillars House in time for lunch at around 12.30 pm.
Inclusions:
Transportation by private air-conditioned car
English speaking guide
Sightseeing as indicated
Drinking water
Entrance fees
Limited medical insurance
The cost of the half day tour is as follows and are valid until December 31, 2022.
1 person = 4,500 THB (USD139) per person net
2 persons = 2,700 THB (USD 83) per person net
3 persons = 2,200 THB (USD 68) per person net
4 persons = 1,900 THB (USD 59) per person net
5 persons = 1,800 THB (USD 56) per person net
6 persons = 1,600 THB (USD 50) per person net