Chiang Mai's Temples by Samlor
Experience the magic of Chiang Mai's temples on our half-day tour, traveling by traditional samlor or rickshaw.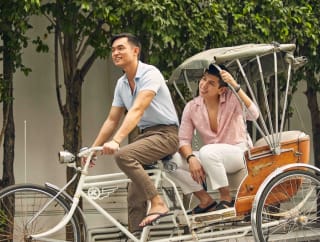 Your guide will meet you at the 137 Pillars House. After this we will walk to the Wat Ket Museum, which is located at the Wat Ket Temple. Jack Bain, son of William Bain, the last manager of the Borneo Company, founded the museum in 2001. Unfortunately this museum is under restoration but we still want to show you the building and tell the story. We will continue and cross the Ping River to the Warorot Market where our samlors are waiting for us to bring us to the Old Walled City of Chiang Mai.
You will visit some famous and lesser-known temples located within the Old City of Chiang Mai. First of all, we will head off to Wat Laam Chang. This temple has an ancient brick chedi. Almost opposite Wat Laam Chang is Wat Chiang Man, Chiang Mai's oldest temple. King Mengrai, the founder of Chiang Mai, built this temple in 1296. Your guide will explain the history of this temple and Buddhism in general.
We leave through the backdoor and head for Wat Phra Singh. This is probably Chiang Mai's most revered temple. Wat Phra Sing currently houses Phra Chao Thong Tip, the most venerated Buddha statue in northern Thailand. From Wat Phra Singh, we make our way to Wat Phuak Hong, one of the lesser-visited temples with its characteristic Mon-style chedi, Wat Phuak Taem. The chedi of Wat Phuak Hong has niches with Buddha statues, characteristic of Mon Dvaravati temple architecture. We continue to Wat Phra Chao Mengrai, a significant and seldom visited temple named after the founder of Chiang Mai.
The next stop is the Chiang Mai Gate market, the most popular market located within the moat. Markets are great places to find the living or intangible heritage of Chiang Mai. We taste some of the local delicacies on offer before hopping on the samlor to go to Wat Chedi Luang with its giant chedi. An earthquake in 1545 damaged the chedi. In the early 1990s, the Fine Arts Department reconstructed Wat Chedi Luang, partially financed by UNESCO and the Japanese government. Next to Wat Chedi Luang is Wat Phantao, which is a beautiful wooden temple. Finally, get on your samlor for the last stretch of your Chiang Mai Temple Tour, which will take you to the 137 Pillars House. Thanks for joining the tour!
Inclusions:
Transportation by Samlor
English speaking guide
Sightseeing as indicated
Drinking water
Entrance fees

Not Included:
Accommodation
Other drinks than water
Personal expenses
Tips
Insurance
Other expenses that are not mentioned in the itinerary
THB 5,400++ per couple. The cost of the half day tour is valid until December 31, 2023.