Tales and Trails of the Teak Wallahs
A fascinating day tour highlighting historical buildings between Chiang Mai and Lampang with a rich colonial history from a bygone era.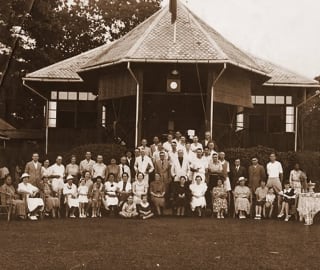 New Historical Tour

137 Pillars House is offering guests a rare opportunity to delve into the rich history of Chiang Mai with a recently launched tour titled "Tales and Trails of the Teak Wallahs". The all-day excursion chronicles the colourful lives of "gentleman foresters" or "teak wallahs" who worked for European-owned companies that owned lumber concessions in the heavily forested north of Thailand.

The "Tales and Trails of the Teak Wallahs" tour starts in the small museum at 137 Pillars House and ends in Lampang. Along the way the knowledgeable guide animates this fascinating trip with old photographs and accounts of the time. Stops include Wat Ket Museum, founded by William Bain's son Jack, the Lanna Ancient House one of the oldest houses in Chiang Mai, Chiang Mai Gymkhana Club, the old Colonial Sports Club, founded in 1898, and the playground of the teak wallahs, the Foreign Cemetery, where many of them are laid to rest, and the British Consul General W.A.R. Wood's residence.
In Lampang, guests ride in a horse drawn cart, a legacy of that period, to Louis House, the former office of Louis Leonowens Company. Also included is a visit to the 100-year-old Forestry Department office, Ban Sao Nak, a wooden house dating back to 1895, the iconic Lampang railway station, Bombay House, and the location of the former Lampang Sports Club.

Transportation is by private vehicle and the tour includes an English speaking tour guide, meals, drinking water and entrance fees.

For more information, contact hotel concierge, call +66 (0)53 247 788 or email fo@137pillarshouse.com